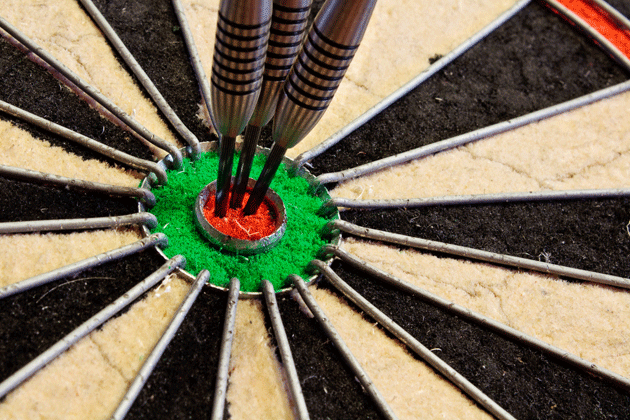 As with all sports, the right sporting equipment has an impact on players' performance and the game of darts is no different. The right darts can enhance your experience, as well as modify the skills of players to secure an advantage in the competition. Choosing the right tip dart plays a big role in a player's game strategy for a win.
There are two types of tip darts: soft-tip darts and steel-tip darts. Soft-tip darts have dull, plastic tips and are used for plastic electronic dartboards that come with a lot of depressions into which the dart tip sticks when they hit the board. Typically, steel-tip darts are what most people are familiar with because they are used for the traditional dartboards (sisal or bristle) and for real competitions.
Steel-tip are what real dart throwers invest in to hone their skills and, overall, improve their performance in the game. They are typically made of wood, brass, nickel, or tungsten.
Darts traditionally has been a pub-game played with steel-tips, however, the game has expanded globally and soft-tip darts with a plastic electronic dartboard are popular in some regions.
Despite this, the market for steel tips is still growing, and there are now some fantastic darts on the market. Thanks to the increasing demand of everyday players, and a better understanding of the subtleties of weight, shape, and even thermodynamics, dart technology have created some outstanding products.
Even if you're a casual player, you can still invest in a good set of darts. The more you get used to the weight and shape of your particular set, the more of an advantage you will have.
Our Top Pick: Elkadart Razor 80% Tungsten Steel Tip Darts
This is not only our favorite, but one of the best selling steel tip darts of all time. Elkadart is one of the most innovative brands around:
Front Weight (Superior Accuracy)​
Different Models Available (Ringed or Knurled)​
The Best Steel Tip Darts
Nowadays, there are many brands and models of steel-tip darts that players can choose from, and more are popping up as technological advances are continuously being made for the game. Pro players are also developing their own brands and are using their experience and skills in the sport to further enhance design. Currently, however, there are certain brands that still dominate and they are established by professionals as some of the best steel tip darts in the market that every serious dart player should invest in. Provided below are their top three.
1. Elkadart's Razor –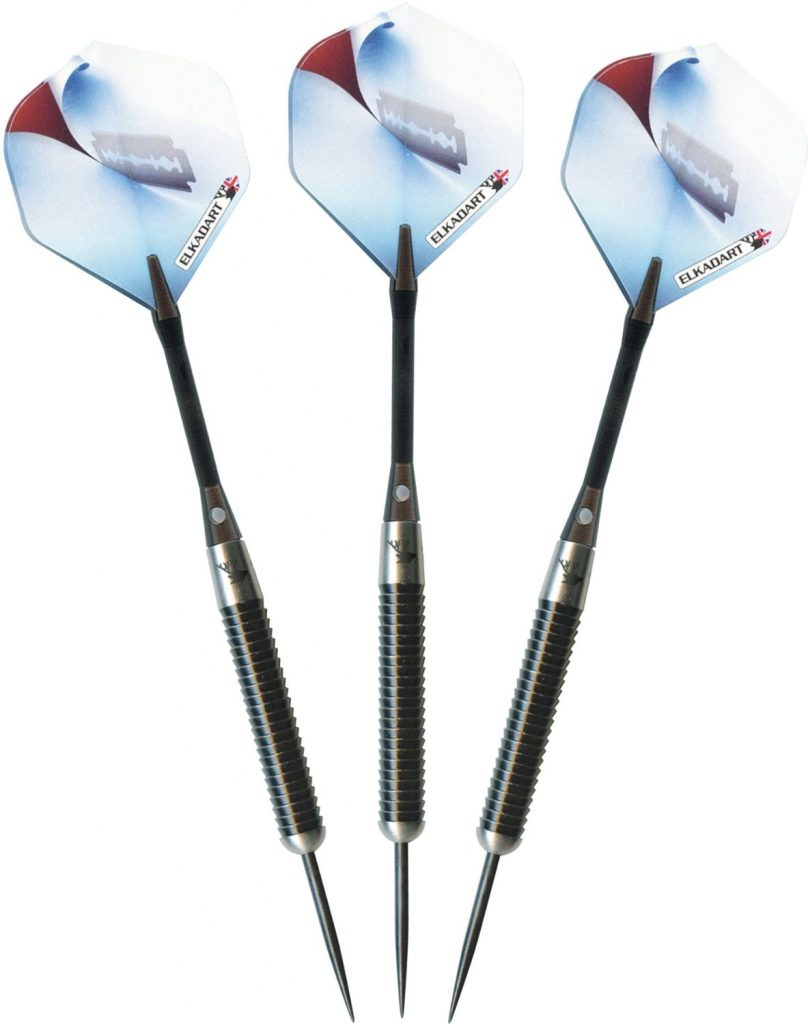 These steel dart tips are made of tungsten painted grooves that allow superior grip in the direction of the throw. They are just half or a quarter of the price of the previous choices. Apart from these qualities, the brand earns the approval of professionals because of its sleek design which features diamond-cut aluminum shafts.
2. Bottleson Hammer Head G.T. III –

These are deemed the most preferred brand of professional darts players for the past three decades; it has a front loaded barrel which provides players impressive control of flight trajectory. This particular model has a "Black Steal" finish, and a set can cost well over a hundred dollars from most retailers.
3.  Fat Cat Predator 80% Tungsten Steel Tip Darts  –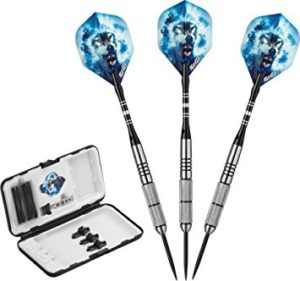 These steel tip darts are some of the best value darts that you can purchase. These are high quality tungsten darts with a slim barrel and knurled bands that provide throwers with excellent grip and consistently balanced flight paths. For protection, these darts come in a case with a hard outer shell and a soft cloth lining. I highly recommend these as a first set of darts for new players who are getting more serious about playing darts.
Our Top Pick: Elkadart Razor 80% Tungsten Steel Tip Darts
This is not only our favorite, but one of the best selling steel tip darts of all time. Elkadart is one of the more innovative brands around:
Front Weight (Superior Accuracy)​
Different Models Available (Ringed or Knurled)​
Here are more details concerning each of the parts.
1. Point or the tip
The dart point is usually a plastic for the soft tip darts or a steel point for the steel tip darts. Both the plastic and steel one can be used on the traditional dart boards when playing. However, the steel tip dart is never used on soft tip dart board since it can cause permanent damage to the dart board. Some of the dart points are normally removable while others are integrated permanently into the barrel. Darts might also have moveable or fixed points. The moveable points can retract slightly into the barrels when an impact is felt. The slight retraction enables the dart to continue its forward motion even after hitting a hard surface.
2. Barrel
A dart barrel comes in a variety of sizes, styles, grips and materials. The weight of a dart is mostly determined by the weight of the barrel as they mostly range between 16 and 30 grams. There are other that are heavier and others lighter than this. The common materials used include brass, plastic, wood, nickel-silver as well as tungsten. The brass barrels are cheap and durable, although they are susceptible to corrosion. The nickel-silver barrels are harder and corrosion resistant than the brass ones. However, they are a bit expensive. Tungsten barrel is said to be the best desirable barrel material.
3. Shaft
This is similar to barrels. They also come in various materials, lengths as well as styles. The commonly used shaft materials include aluminum, titanium, nylon and plastic. The most popular one is aluminum. The length of the shaft may affect the stability of your dart in flight. A longer shaft may reduce the effects of crowding, although they may cause the dart to fish-tail while in the air. This may destabilize your accurate throw and hence shorter shafts may work better. The shaft styles include spinning, adjustable lengths and replaceable shafts.
4. Flight
The dart flights normally come in various textures and shapes. The most commonly used shapes are Slim and Standard. Other shapes include the Pear, Kite, Vector and Vortex. The flight textures include nylon, smooth, dimplex and more others. Smaller and smoother flights allow the dart to go through the air faster. Conversely, the larger and more textured flights can make the darts to fly slower through the air. Generally, the smaller flights such as slims are mostly used with shorter shafts and lighter darts while the larger flights are mostly used with longer shafts and heavier darts.